A Christmas Themed Escape Room Kit That Transforms Your Home Into A Holiday Adventure. Just Print & Party.
Also Comes With The Complete Base Game!
What's In The Escape Room Z Party Kit?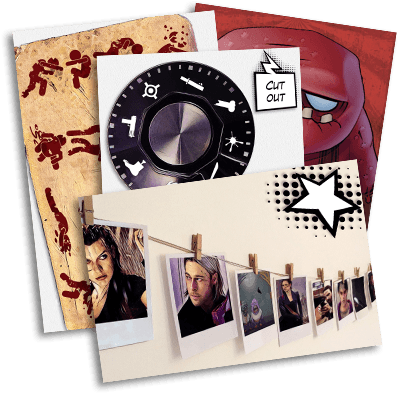 Over 50 super stylish puzzle cards that include everything you need to create your 1st DIY escape room party.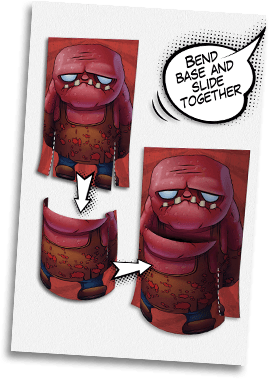 Easy To Follow Setup Instructions
The kit comes with 8 posters that can be printed at home (on A4 paper) or any size up to A1 at an office store.
There's even a Victory poster for that ever important selfie at the end!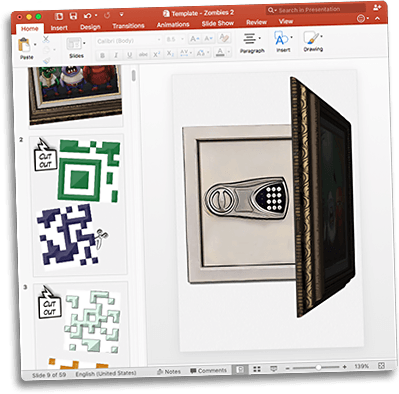 The complete Builders Toolkit comes bundled with the game so you can customize it to your liking. It's in PowerPoint format so you can easily make as many changes as you like.
If the escape kit isn't what you were expecting just drop me a line and I'll send you a complete refund.
One-On-One Customer Support.
I'm just an email away. ????
If you get stuck setting up the game, making changes to the template, or have a question before you download just send me an email.
Every Puzzle Has Been Hand Crafted To Look Amazing And Print Perfectly As Standard 4x6 Photos.
You can print these at most office stores for about $5 (like you'd print photos of your family). Alternatively, just use your own home printer.
Some of the printable cards can be easily swapped with real life props (like a NERF gun or combination lock). These are listed in the Survival Guide and are an optional way to bring the game to life.
How to setup the Escape Room Z party kit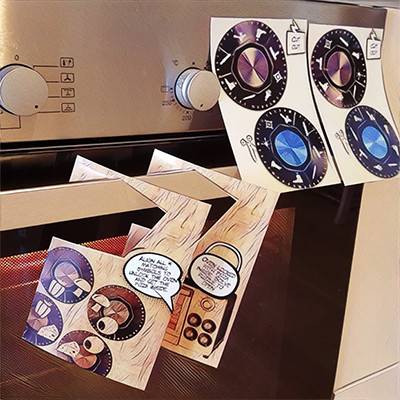 Setting up the party kit Is Super Easy (30 Mins).
You can hide the puzzles (like a traditional escape room) or just leave them in plain sight for simpler setup.
Either way there's no spoilers so you can still play the escape game yourself.
Customize The Party Kit Using The Editable PowerPoint Template..
This is a great way to get into designing your 1st escape room since a lot of the grunt work's been done for you.
For example, adding real life combination padlocks or customizing the game for a friends birthday or corporate team building day.
How to edit the Heist Party escape room kits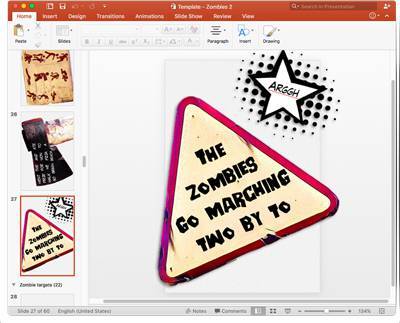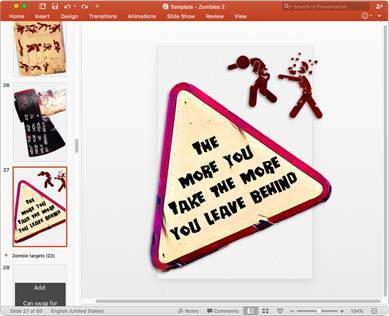 How the DIY escape game works:
This game kit allows you to recreate the escape room experience for friends, family, and workmates. You'll be solving ciphers, hacking lateral thinking puzzles, and working together to beat the game before Zombies break down the door and eat your Christmas Turkey.
Why running an escape room at home is fun:
Customizable: want to change how the game plays? No worries - the editable template comes with the kit. Feel free to change whatever you like or use it as a base game to save you some work.
Chilled out: no time limits.
Great for groups: It's super cheap to print the kit out multiple times so you can have several teams competing simultaneously. Alternatively, your party guests can form groups to win 'King of the Hill' for the night.
Schools, camps, and youth groups
Escape rooms are one of the best team building activities ever. They require constant communication and challenge players with healthy conflict. The Escape Room Z kit takes this to the next level by creating a competitive environment where teams simultaneously battle for King of the Hill. Just print out a copy of the game for every 4-8 players.
Here're some tips for running the game with larger groups:
Split the group into several teams of 4-8 people that will compete for King of the Hill.
Each group can play simultaneously.
Teams require 1-2 mobile phones so they can look up hints in the Survival Guide and complete some of the challenges. The Survival Guide also contains solutions so if you have super competitive teams make players come to you where you'll give them the hint but they'll receive a time penalty.
It's a race to the finish so there' no need to set a timer unless your day requires it.
Faites une big event out of revealing the winning team since this will be a highlight of the challenge.
Example from Church Youth Retreat
How Mark, From Harvest High School, customized The Game For High Schoolers:
I ran Escape Room Z a couple of weekends ago with middle school/high school students and adult leaders. Our crew had about 32 people, so four teams of 6-7 and everyone finished within 90 mins, with the fastest team being 70 mins.
The Party Was A Great Success. The Kids Solved The Room And Had A Roaring Good Time!
Activité de team building
The Escape Room Z kit will take 30-60 minutes to set up and can be printed multiple times to scale to any group size (I've had a group of 130 people at a conference run one of the Heist Party kits).
When running the game:
Set the game up by following the Guide d'installation. If space is limited just place all the puzzles in the middle of each team's table rather than spreading them out.
Set a 60-minute timer.
As the Game Master, you'll be the one giving out indices. This is super easy as they're all in the Survival Guide. Just open it up, on your phone, and when a group asks for a hint you can read them out.
Set a time penalty for using a hint (2 minutes for a hint or 5 minutes for a full solution). Just do a tally of these and deduct them from the final times at the end.
How It's Different From Going To A Business:
You'll receive hints and tips via the Survival Guide that you can load on your phone. This way if you're ever stuck simply tap the puzzle you're stuck on for a hint. Most puzzles have a few hints, that start subtle, and have the solution if you get really stuck.
To avoid complex setup there's no scavenging in the default version of the game. If you're happy to be the Game Master you could spend 15 minutes hiding the clues for the group to find as they work their way through the challenges.
Spotify Zombie Party Music
Awesome escape room design is about activating all the senses - including music!
Here's 2 playlists to set the scene for your DIY escape game. The 1st is a handpicked mix of chill, house, and old-school all about the groaning dead. The 2nd is the super moody soundtrack from The Last of Us and adds that awesome low-level dread we all love about zombie folk law.
On game night just plug in your phone, hit play, and you're good to go.
Hi, I'm Elliott. Drop me a line: