A Teen Party Escape Room Kit.
The United World Government has almost finished building their Warhead Antimatter Response (W.A.R) facility. Your Heist Crew cannot let that happen...
How the Escape Room Kit Works
This printable escape game kit transforms your house into a treasonous mission to stop the W.A.R. facility coming online. It's great for a teen party and can be played with one or more teams. Best of all, you can optionally customize the entire game before printing.
Setting up is super easy. Just download the game kit and print the clue cards as standard 4x6 photos (just like you would family photos). Alternatively, you can print the game on A4 paper, however, you won't get that nice glossy look photos have. Just print out an addition copy of the kit of each team.
Before the party, follow the step by step instructions to setup the game. All up, it takes about 45 mins to complete and is an amazing theme for any party.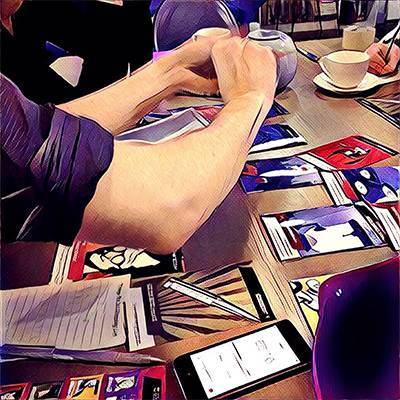 Comes with everything you need for the party.
Print as normal 4x6 photos or A4. Looks amazing and super easy.
3: Teams compete for 1st!
Designed to be fun but competative.
This at home version of an escape room game runs very much like the real thing but with a little more DIY. You'll be solving ciphers, hacking puzzles, and working together to beat the game before time runs out.
If you enjoy board games like T.I.M.E Stories or those old-school murder mysteries you'll love it. You can easily play it on a table top is a bit like setting up an average board game.
It's designed for groups of 2-4 players and can be completed in 45 minutes. If your group is bigger just print it out multiple times and play competitively.
Teenager's party.
Board game night.
Family activity at home.
Teachers to run with their class at school.
Summer camps and other getaways.
Youth groups.
Grand Theft Antimatter is a 4 chapter mission to infiltrate the W.A.R. facility. Each chapter require's the team to overcome one or more puzzle challenges before proceeding.
When players feel they've got the right answer they check it using the solution cards and if correct they can progress in the game. Like any cooperative board game, this allows for some cheating, but groups usually self-police.
If you're running the escape game as a competition, between teams, then just don't give the solution cards to players. Instead, they come to you to check their answers.
Once all chapters have been solved the game is finished and players are victorious! If competing for time whoever finished first is the winner.
"Really Like The At-Home Escape Concept And I Think Heist Party Has A Good Formula For It."
When creating your own escape room music is a must. This futuristic playlist has been custom made for the Grand Theft Antimatter escape game and features upbeat house tunes that really set the vibe.
On game night just plug in your phone, hit play, and you're good to go.
Enjoy.
Refunds and all the legal Jazz
Hi, I'm Elliott. Drop me a line (usually 24-48 hours response time)