How to Make a Kids Escape Room Christmas Party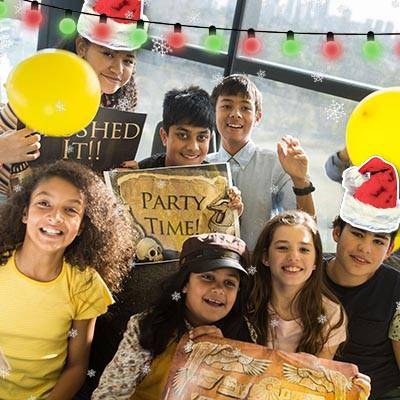 Crack out this year?s coolest kids party idea to wow your crew, make other parents jealous, and crush Christmas like a boss!
Take your kids Christmas party to the next level!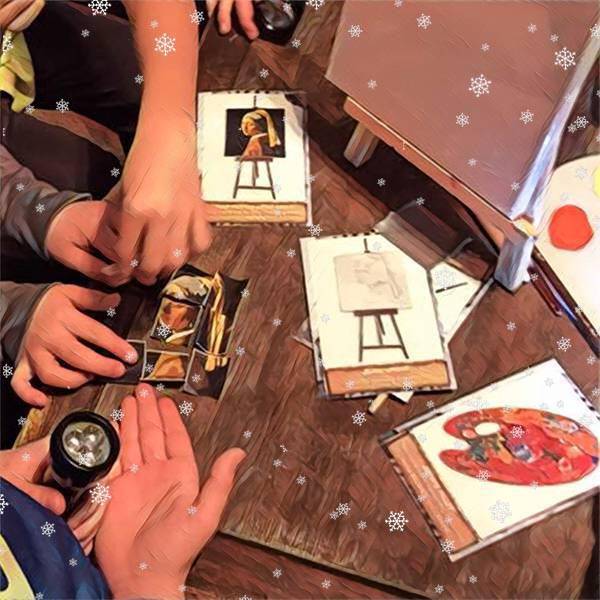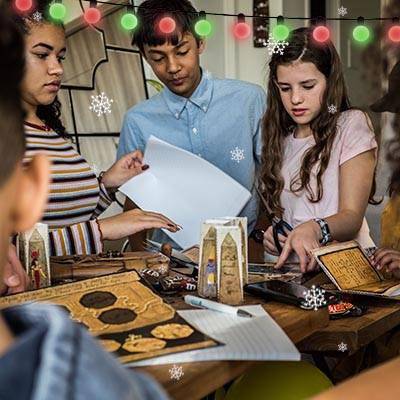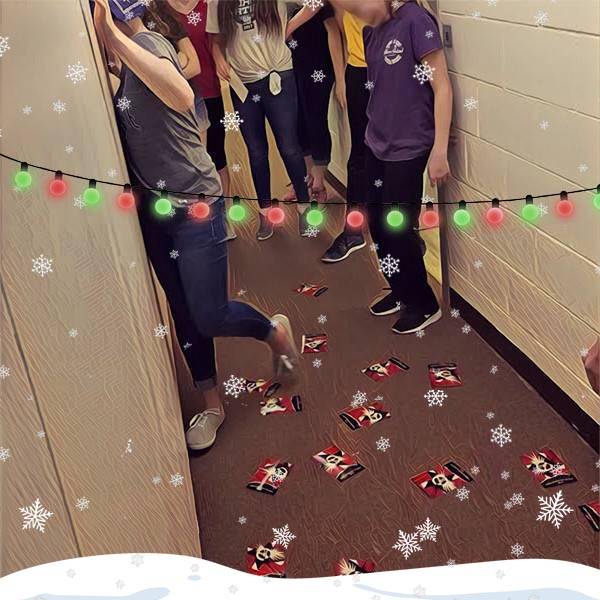 So you've got a kids Christmas party coming up...
Excited? Running for your life? Daunted by what to do with 19 girls from your daughter's new school?
Don't worry, you've got this!
If you're short on time just download a ready to play kit (printable). Otherwise, this guide has everything you need to get started and crush it.
For starters, no matter what kind of party it is, you and your kid(s) probably have differing priorities.
Kids consider it a great party if there are super fun activities, it?s well attended, and plenty of sweets are served.
Parents consider it a great party if it?s easy to plan and set up, budget-friendly, and requires the least amount of clean-up possible. If the kids don?t get excessively rambunctious after eating all those sweets, that?s a bonus.
Fortunately for you, there?s an easy way to not only fulfill most of your wish list but host a kid?s birthday party that?s heralded as a favorite for years to come (or at least until you plan another one!).
This year, you?re going to host the best party your kids have ever had.
Yes ... *You?re* going to host an Escape Party!
Escape Parties Are The New Christmas Black
Let?s start with the best part. Kids love activities that challenge their minds and allow them to engage in structured problem solving.
Don?t believe me? That?s what video games do!
Sure, it looks like they?re shooting zombies or fighting the evil empire, but they?re also using their critical-thinking skills to devise strategies and (often) work with other players as a team.
An escape game offers the exact same mental challenges and exciting ?a-ha!? moments, but in a live setting where all the kids can participate at once.
They?ll have puzzles to solve. An imaginary danger to overcome. Opportunities to revel in imagination and show off their ability to think on their feet.
Escape Room Parties Wow Kids - No Matter How Many Rock Up
You know your kids are going to be disappointed if they invite a whole bunch of kids, and only a handful show up. 
Plus, kids can be like a pack of goblins - the more kids you invite, the more likely it is someone is going to feel left out. Many a parent has rued the decision to invite most of a son?s or daughter?s class only to realize they now have to invite the rest of the class members to be fair.
The perfect number of kids for an escape adventure group is four to six. If you have more than six, you can divide them into teams and let them compete to finish first. So no matter how many guests you invite, it?s easy to make sure everyone can join in the fun.
You can theme the escape game however you like. This pic is from another reader, who ran Escape Quest for their son's birthday.
They?re Simple to Plan and Budget Friendly (Sorry Beyoncé)
Sure, there's that celebrity showing off their mortgage-worthy kids' party on Instagram, complete with elaborate set pieces, themed costumes, and complicated snacks.
But really... let's just have a good time and still be able to afford milk next week.
Sure, your kids would be delighted if you pulled out all the stops:  hired Santa and his elves, rented a bouncy house, and served a four-foot-tall reindeer cake, but it?s not necessary. For example, you can print a complete escape game kit for less than the cost of party snacks.
Plus, Christmas parties are supposed to be celebrations (dare I say 'fun'). If you?re finding yourself dreading the event, you?re doing it wrong. 
Kids escape rooms are the perfect balance of being awesome without breaking the budget.
Now, while your kids are just having fun, some children have to escape from more than just a room - and they need your help.  Want to know more?  Click here.
Did Someone Say Cleanup? Easy...
I can?t make any promises about the snack and cake area, but cleaning up after the game is easy.
Unless you decide to add a bunch of thematic decorations (like this family did), you?re really just picking up a bunch of paper, maybe some scissors and tape, and possibly a couple of boxes and padlocks (which are optional). There are no little plastic pieces to keep track of (or accidentally step on when you?re not expecting it).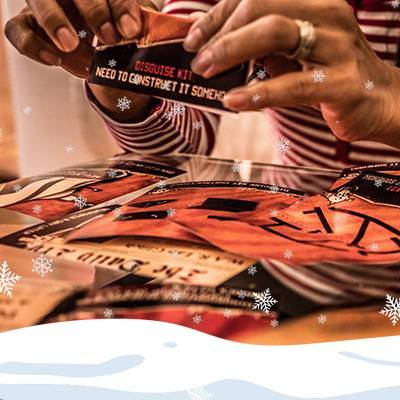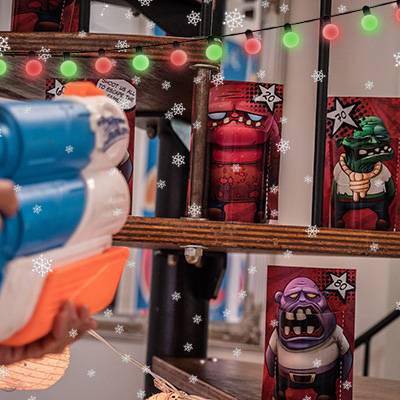 Your Champion for Post-Sugar Chaos
Sugar happens. 
I?m afraid you?re on your own on this one. My advice? Put a definite end time for the party on the invitations, and encourage parents to pick up their kids promptly.
Generally, a game will take kids around 45 minutes to an hour, which is a perfect amount of time for a birthday party. You can plan on 30 minutes to arrive and greet each other, an hour for the game, another hour for cake and presents, and just as the sugar is kicking in, your party is coming to an end.
Ready to Become a Christmas Ninja?
The easiest way to host an escape adventure at your kid?s party is to download one of our ready-to-play escape kits. Our printable escape kits come with everything you need to host a full 45- to a 60-minute game.
Each kit comes with:
A full game in easy-to-print PDF format

Clear setup and gameplay instructions for you to follow (plus links to video tutorials)

Customizable party invitations

Posters

A bonus designer kit that allows you to personalize the game any way you like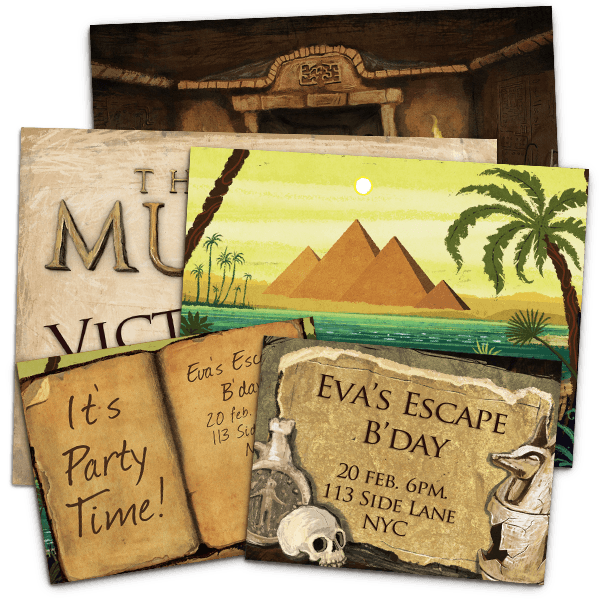 How to Setup The Kids Escape Room Kits
To set up the game for your party group, you?ll print the game PDF on a color printer (or take it to an office store like Kinko?s and have it printed for you) and gather a few supplies (scissors, tape, some scratch paper, and pens or pencils).
And you can set the stage with the included posters or themed ?dollar-store? party decorations if you want.
That?s it.
When the kids are ready to play, you hand them the introductory game cards and let them start solving the puzzles. When they solve a puzzle correctly, you give them the next challenge and so on, until they?ve completed the game!
All the answers to the puzzles (as well as how to solve them) are included in your setup and gameplay instructions, so you can provide help if the kids get stuck.
Yes. It really is that easy!
The kits are incredibly versatile.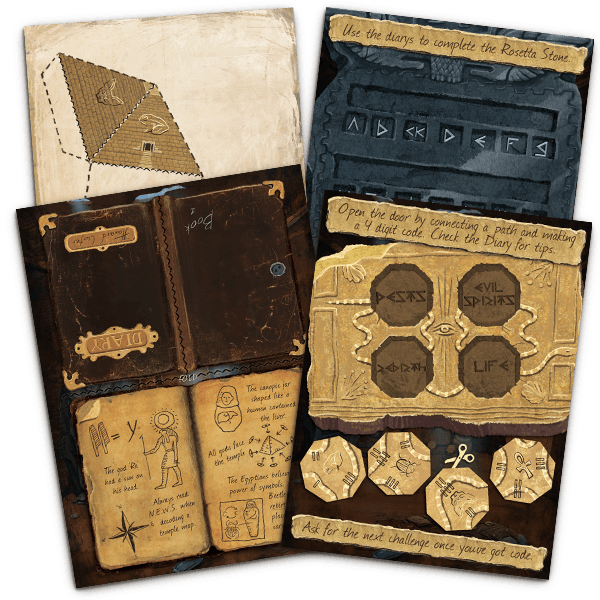 Larger Group?
If you have a larger group, you can print more versions of the game, divide the kids into teams, and challenge them to see who can finish first.
You can add urgency by setting a timer and challenging everyone to finish the game within the time limit.
You can use the designer kit to adapt the puzzles for different age groups.
If you want to add some extra excitement to the game, instead of handing out the challenge cards, you can lock them in boxes with padlocks programmed to the previous puzzle?s answer.
And, of course, once you?ve purchased the game, it?s yours. So you can print it out and use it as many times as you want. (This can come in especially handy if you?re expecting to host a birthday party for a younger sibling in a couple of years!)
Ready to make your kids escape dream come true?
It's easy. Just Grab one of these ready to play birthday escape room kits.
They download instantly and are ready to print & party.
You can even customize them with the super simple game builder. Why not use their birthday year as one of the 4 digit combination solutions? Or add their name as a cipher key. You can change anything, or nothing at all, it's totally up to you.