Example from Deborah's Party
You get to choose how much effort you put into prep.

Although the Escape Quest kit is a complete game, that's ready to print and play, it's a lot of fun to customize (and super easy).

It comes with the editable game template so you can adjust anything.

Here's what Deborah did for her party:
Top customizations:
Use real life boxes and locks to replace the printed ones.
Add mini-games.
Use props like real chocolate.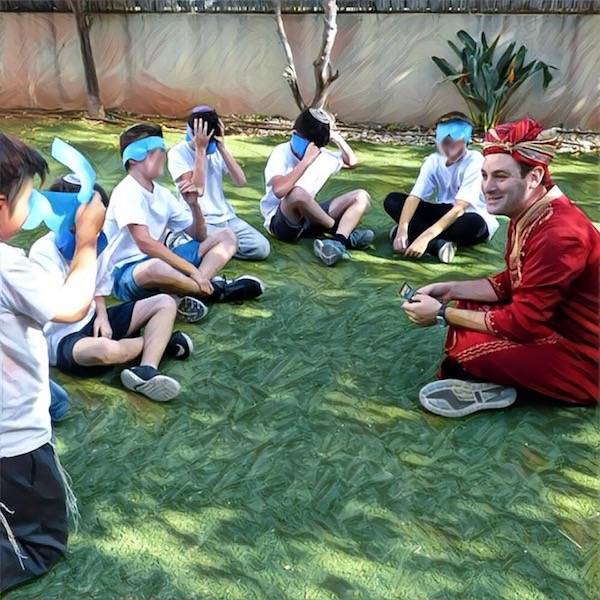 We had 7 boys aged 11/12 who were a good group (up for the challenge and wanted to do it properly).

To make it exciting my husband dressed up as the Indian leader and waited in the garden for them. I blindfolded them all and they held onto each other like a train to go round to the garden for their first mission.

After the outdoor round, we moved into the kitchen for the making chocolate challenge. I stuck the cards onto some items like the milk in the fridge, a toy goat, some branches. Favourite was putting the cocoa card on the Cocopops. They were especially happy to dive into the big chocolate bar they got as loot for this round.
To make the next room more challenging we closed the shutters, so the room went dark. After giving the kids a torch each (which they took home with them) it was a lot harder. To make it more fun, I'd set a real padlock which is especially hard to solve in the dark.

For the art room, I messed up a small room, used a real blank canvas, brushes and hid the parts of the puzzle inside balloons and blew up lots of other balloons. It didn't take them long to work it out, but they thought that was cool and popped them (some of them hated the popping which made it even more fun for the rest!) This was great except for the talking picture which I thought was a bit silly, but the boys just went along with it and didn't mind.

Then we went up to the next room - we used red wool and made my son's room into a darkly lit laser room. As the challenge was finding a gun and cartridge, we used Nerf guns and stuck the cards on them before hiding them in the room. They had a splendid time and we did the Mannequin Challenge while we were in there which worked well!

The final room I did in the bathroom just because it was small and a weird place for lots of boys to be in together. I also set a padlock for this one, and they found the magic potion - which was a small bottle of colored water.

Although I don't think it had the same time limit feeling of an escape room, they really enjoyed it and felt like it challenged them enough.

Printing it as photos definitely made it look professional, so I'm glad I spent that extra rather than printing it at home. Would have loved to do something with dry ice with them, afterwards, but nowhere near me to get hold of it. They were quite happy to have a game of soccer instead.