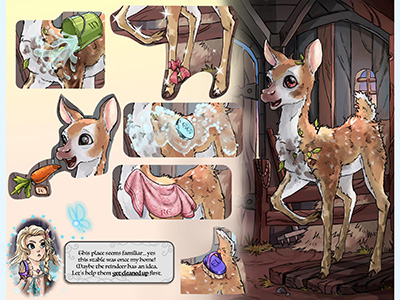 Lets start by cutting out each of the sections.

The reindeer has been helping us through the forest, and needs a good clean.

Match each of the sections to the correct place on the reindeer to help form how she is feeling.

There are three sections that need ordering -> what sequence is natural?
Bucket -> Soap -> Towel
Pasting the different deer sections in order from head to toe, we get:
FEELING GREAT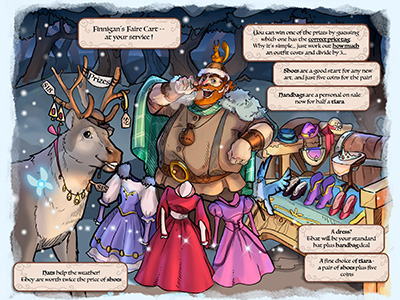 Let's win one of the three prizes!

There is an Earring, Necklace and Bracelet to win. Finnigan has a maths puzzle
to solve, before we know which is the correct prize.

Try writing down each item and the formula required to figure out its cost.

Then add up all of the items! Looks like it is the total outfit price divided by three.
The formula is as follows:
Price = Total / 3
Shoes = 5
Tiara = Shoes + 5
Handbags = Tiara / 2
Dress = Handbag + Hat
Hat = Shoes * 2

This gives us the following values:
Price = Total / 3
Shoes = 5
Tiara = 5 + 5
Handbags = 10 / 2
Dress = 5 + 10
Hat = 5 * 2
Total Price = 5 + 10 + 5 + 15 + 10 = 45
45 / 3 = Necklace price

Bracelet: 9

Earrings: 18

NECKLACE: 15